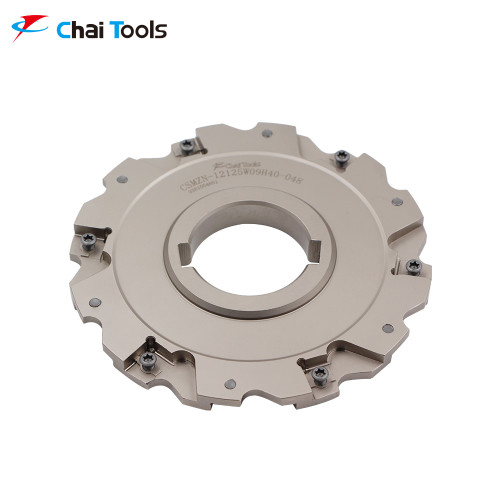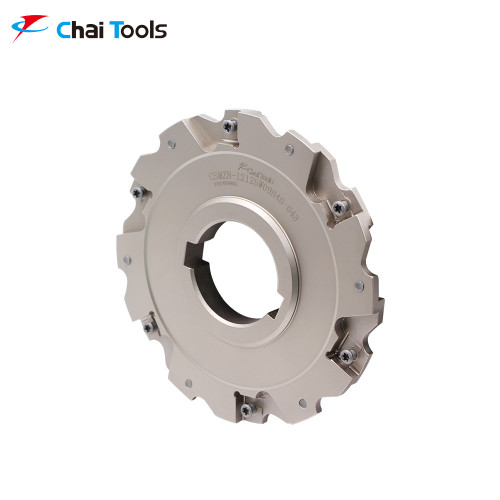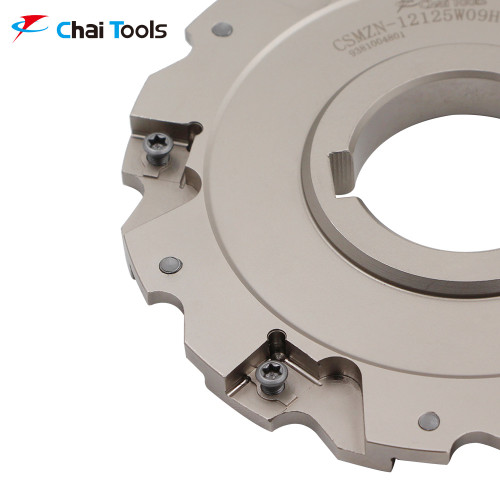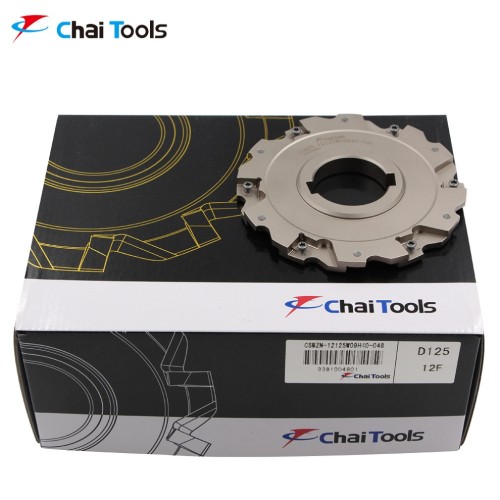 CSMZN-12125W09H40-048 Slotting Cutter for CNC machining
Model

CSMZN-12125W09H40-048
Description
1.Matched with ZNHT 023~053 insert, the diameter range of cutter is φ63~φ250mm.

2.The cut width range is 4~10mm and the max. depth is 89mm.

3.Vertical installation insert has a good strength, make the cutting process more safely.
4.Material 42CrMo and after-quenching CNC processing make the face milling tools with long service life, better wear-resistance, strength and rigidity, high working efficiency.
5.Provide complete specifications and competitive price.
CSMZN...H SERIES SLOTTING CUTTERS-FIXED PACKET DISK TYPE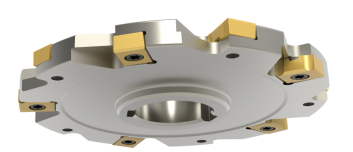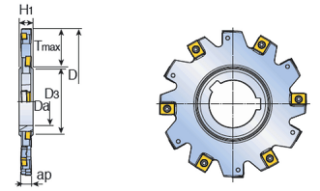 Model

Teeth Number

ap(mm)

Dimensions(mm)

Insert

D

Da

D3

H1

Tmax

CSMZN-863W04H22-023

4+4

4

63

22

34

8

12.0

ZNHT 023

CSMZN-1080W04H22-023

5+5

4

80

22

34

8

21.0

CSMZN-12100W04H27-023

6+6

4

100

27

41

12

27.0

CSMZN-14125W04H40-023

7+7

4

125

40

55

12

32.0

CSMZN-18160W04H40-023

9+9

4

160

40

55

12

50.0

CSMZN-863W05H22-028

4+4

5

63

22

34

8

13.0

ZNHT 028

CSMZN-1080W05H22-028

5+5

5

80

22

34

8

21.0

CSMZN-12100W05H27-028

6+6

5

100

27

41

12

27.0

CSMZN-14125W05H40-028

7+7

5

125

40

55

12

33.0

CSMZN-18160W05H40-028

9+9

5

160

40

55

12

50.0

CSMZN-863W06H22-033

4+4

6

63

22

34

8

13.0

ZNHT 033

CSMZN-1080W06H22-033

5+5

6

80

22

34

8

21.5

CSMZN-12100W06H27-033

6+6

6

100

27

41

12

27.0

CSMZN-14125W06H40-033

7+7

6

125

40

55

12

33.0

CSMZN-18160W06H40-033

9+9

6

160

40

55

12

50.0

CSMZN-20200W06H50-033

10+10

6

200

50

69

12

63.0

CSMZN-24250W06H50-033

12+12

6

250

50

69

12

88.0

CSMZN-880W07H22-038

4+4

7

80

22

34

12

20.0

ZNHT 038

CSMZN-10100W07H27-038

5+5

7

100

27

41

12

26.5

CSMZN-12125W07H40-038

6+6

7

125

40

55

12

32.0

CSMZN-16160W07H40-038

8+8

7

160

40

55

12

49.5

CSMZN-18200W07H50-038

9+9

7

200

50

69

12

62.5

CSMZN-24250W07H50-038

12+12

7

250

50

69

12

87.5

CSMZN-880W08H22-043

4+4

8

80

22

34

12

20.5

ZNHT 043

CSMZN-10100W08H27-043

5+5

8

100

27

41

12

27.0

CSMZN-12125W08H40-043

6+6

8

125

40

55

12

32.5

CSMZN-16160W08H40-043

8+8

8

160

40

55

12

50.0

CSMZN-18200W08H50-043

9+9

8

200

50

69

12

63.0

CSMZN-24250W08H50-043

12+12

8

250

50

69

12

88.0

CSMZN-10100W09H27-048

5+5

9

100

27

41

12

27.5

ZNHT 048

CSMZN-12125W09H40-048

6+6

9

125

40

55

12

33.0

CSMZN-16160W09H40-048

8+8

9

160

40

55

12

50.5

CSMZN-18200W09H50-048

9+9

9

200

50

69

12

63.5

CSMZN-24250W09H50-048

12+12

9

250

50

69

12

88.5

CSMZN-10100W10H27-053

5+5

10

100

27

41

12

28.0

ZNHT 053

CSMZN-12125W10H40-053

6+6

10

125

40

55

12

33.5

CSMZN-16160W10H40-053

8+8

10

160

40

55

12

51.0

CSMZN-18200W10H50-053

9+9

10

200

50

69

12

64.0

CSMZN-24250W10H50-053

12+12

10

250

50

69

12

89.0