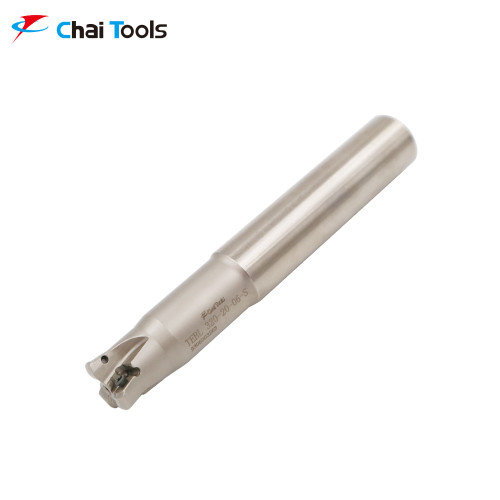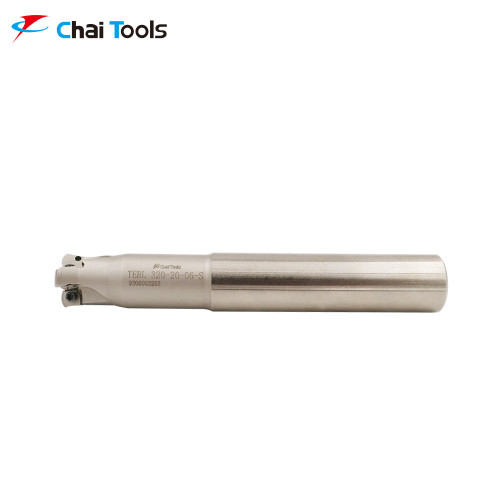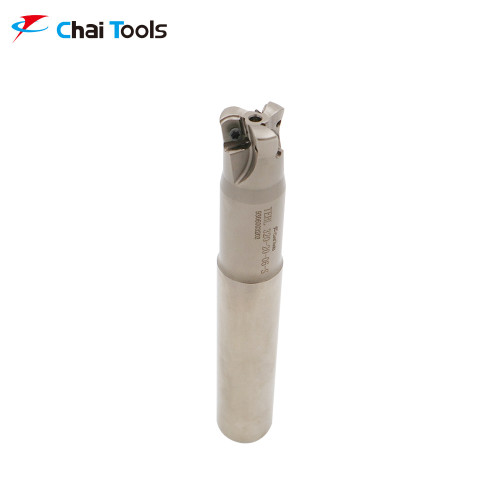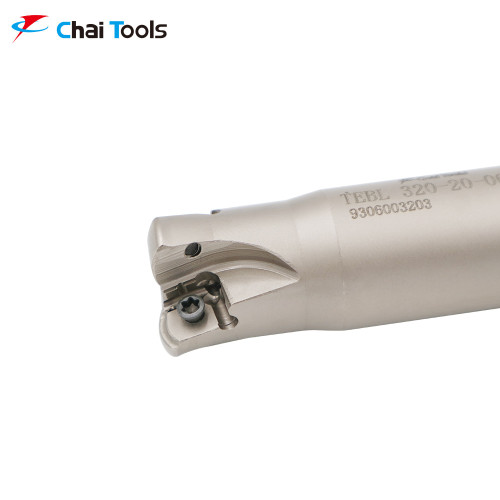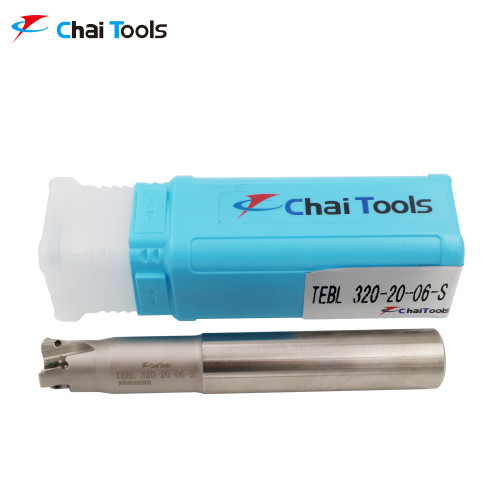 TEBL 320-20-06-S Fast Feed End Mill Cutter for CNC machining
Description
1.Matched with double-side 4 cutting edges milling insert: BLMP 0603 and BLMP 0904.

2.Effectively reduce the radial direction force, achieve a high feedrate cutting.
3.Suitable for cavity profiling milling and face milling.

4.Material 42CrMo and after-quenching CNC processing make the end milling tools with long service life, better wear-resistance, strength and rigidity, high working efficiency.
5.Provide complete specifications and competitive price

TEBL SERIES FAST FEED END MILLING CUTTER

Model

Teeth Number

Dimensions(mm)

Insert

D

d

L

H

ap

TEBL 216-15-06-L150

2

16

15

150

40

0.7

BLMP 0603

TEBL 216-16-06

2

16

16

150

40

0.7

TEBL 216-16-06-S

2

16

16

100

30

0.7

TEBL 217-16-06-S

2

17

16

100

30

0.7

TEBL 217-16-06

2

17

16

150

40

0.7

TEBL 217-16-06-L200

2

17

16

200

20

0.7

TEBL 218-16-06

2

18

16

150

25

0.7

TEBL 220-20-06-L200

2

20

20

200

80

1.0

TEBL 320-19-06-L180

3

20

19

180

80

1.0

TEBL 320-20-06-S

3

20

20

130

50

1.0

TEBL 320-20-06

3

20

20

160

80

1.0

TEBL 321-20-06-S

3

21

21

150

20

1.0

TEBL 321-20-06-L200

3

21

20

200

20

1.0

TEBL 325-25-06-L220

3

25

25

220

50

1.0

TEBL 425-24-06-L180

4

25

24

180

60

1.0

TEBL 425-25-06-S

4

25

25

140

60

1.0

TEBL 425-25-06

4

25

25

180

60

1.0

TEBL 425-25-06-L250

4

25

25

250

40

1.0

TEBL 326-25-06-L200

3

26

25

200

30

1.0

TEBL 326-25-06-L250

3

26

25

250

30

1.0

TEBL 426-25-06-S

4

26

25

150

30

1.0

TEBL 426-25-06-L200

4

26

25

200

30

1.0

TEBL 426-25-06-L250

4

26

25

250

30

1.0

TEBL 430-32-06-S

4

30

32

150

70

1.0

TEBL 430-32-06-L200

4

30

32

200

120

1.0

TEBL 530-32-06-S

5

30

32

150

70

1.0

TEBL 530-32-06-L200

5

30

32

200

120

1.0

TEBL 432-32-06-S

4

32

32

150

70

1.0

TEBL 532-32-06-S

5

32

32

150

70

1.0

TEBL 532-32-06-L200

5

32

32

200

120

1.0

TEBL 433-32-06-L220

4

33

32

220

40

1.0

TEBL 433-32-06-L300

4

33

32

300

50

1.0

TEBL 533-32-06-S

5

33

32

150

30

1.0

TEBL 533-32-06-L200

5

33

32

200

40

1.0

TEBL 533-32-06-L250

5

33

32

250

40

1.0

TEBL 435-32-06-L300

4

35

32

300

50

1.0

TEBL 535-32-06-L200

5

35

32

200

50

1.0

TEBL 535-32-06-L300

5

35

32

300

50

1.0

TEBL 540-32-06-L220

5

40

32

220

40

1.0

TEBL 640-32-06-S

6

40

32

150

40

1.0

TEBL 640-32-06-L220

6

40

32

220

40

1.0

TEBL 225-25-09-L150

2

25

25

150

70

1.5

BLMP 0904

TEBL 225-25-09-L200

2

25

25

200

100

1.5

TEBL 325-25-09-L150

3

25

25

150

70

1.5

TEBL 325-25-09-L200

3

25

25

200

110

1.5

TEBL 326-25-09-L150

3

26

25

150

30

1.5

TEBL 326-25-09-L220

3

26

25

220

30

1.5

TEBL 330-32-09-L160

3

30

32

160

70

1.5

TEBL 330-32-09-L220

3

30

32

220

120

1.5

TEBL 332-32-09-L160

3

32

32

160

70

1.5

TEBL 332-32-09-L220

3

32

32

220

120

1.5

TEBL 432-32-09-L160

4

32

32

160

70

1.5

TEBL 432-32-09-L220

4

32

220

120

1.5

TEBL 433-32-09-L180

4

33

32

180

30

1.5

TEBL 433-32-09-L250

4

33

32

250

30

1.5

TEBL 440-32-09-L180

4

40

32

180

40

1.5

TEBL 440-32-09-L250

4

40

32

250

40

1.5

TEBL 540-32-09-L180

5

40

32

180

40

1.5

TEBL 540-32-09-L250

5

40

32

250

40

1.5